Monitor
CPU
Realtime CPU graph showing the current CPU load. If you need to see detailed CPU stats for a specific process running, jump into CPU details to see them all.
Memory
Realtime memory consumption graph. For in-depth information on cached, active, inactive and swapped memory, jump into memory details.
Temperature
Current temperature of your Pi's CPU and GPU.
Disk Usage
Overview over free space on your root disk. Dive into the file browser to view and export files.
Clock
See current and maximum clock of your Pi.
Control
Execute Commands
With a single tap, execute a command on your Pi.
Manage Commands
Write your own commands and manage them in groups. Possibilities are endless!
View and Export Results
View and export command results automatically when finished or take a look at them later.
Script Library
Get predefined scripts from the Script Library. Everyone can contribute his favorite scripts easily via github.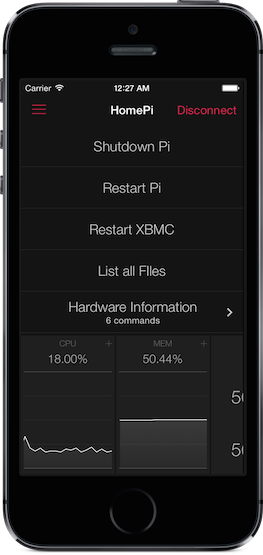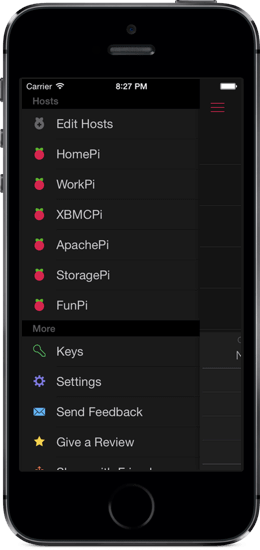 Manage
Multiple hosts
Manage multiple Pi.
Public Key authentication
Connect to your Pi using private key or password. It's up to you!
Key Import
Import private and public keys via iTunes or from other apps (i.e. "Open in").
Custom ports
Don't be forced to use port 22. We take them all up to 65535.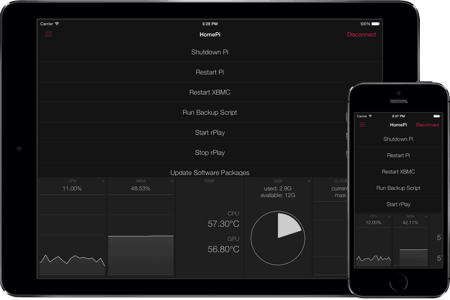 SimplePi is a universal app and comes for both iPhone and iPad.

SimplePi
Available on the AppStore for $1.99
Requires iOS 7.0+
SSH needs to be enabled on your Raspberry Pi